REEL BIG FISH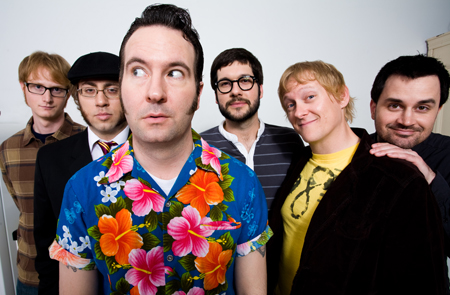 Aaron Barrett – guitar, lead vocals
Dan Regan – trombone, backing vocals
John Christianson - trumpet, backing vocals
Derek Gibbs – bass guitar, backing vocals
Matt Appleton – saxophone, backing vocals
Ryland Steen – drums
Reel Big Fish was one of the legions of Southern California ska-punk bands to edge into the mainstream following the mid-'90s success of No Doubt and Sublime. Like most of their peers, the band was distinguished by their hyperkinetic stage shows, juvenile humor, ironic covers of new wave pop songs, and metallic shards of ska. The group cultivated an underground following that broke into the mainstream in summer 1997, when their single "Sell Out" became a modern rock radio and MTV favorite. Their appearance in the movie "Baseketball" as the halftime band also gained them more fans and helped the bands popularity to grow. Still fronted by original lead singer and song writer Aaron Barrett, they continue releasing albums and touring relentlessly, playing more and more countries and  bigger venues all over the world.
On July 31st, 2012 Reel Big Fish release their 7th studio album, Candy Coated Fury (Rock Ridge Music), an inspired  and infectiously catchy return to the hyperkinetic ska and biting wit of the band's beloved early albums. "This album is a lot like our first two albums. It's got a lot of the same intensity, frantic energy in the music, and the same sarcastic sense of humor. I think these are the fastest songs we've done since those albums," Aaron Barrett, founding vocalist, guitarist, and principal songwriter says. "We're finally just doing what Reel Big Fish does best, and that's what we did on those first two albums."
"Candy coated fury pretty much describes what Reel Big Fish does," Barrett says of the significance of the new album's title. "It's hateful, mean, sarcastic, and, sometimes sad lyrics, over happy, wacky, silly, joyous, fast music that makes you want to dance. This album is mostly love songs, but bitter, angry, hateful love songs. Just about everybody knows what it's like to be in a bad relationship. These songs could be sung by a 15 year old about his first love-gone-wrong, or by a 55 year old about a bitter divorce after 30 years. They're bad-relationship songs that everybody can relate to."
Candy Coated Fury is Reel Big Fish's first album of newly recorded original material in five years. Overall, it's the seventh in the band's twenty year history, and it feels as vital and vitriolic as RBF's foundational releases. The record opens with the huge sing-along vocal, balmy horns, and hyperactive ska groove of "Everyone Else Is An Asshole." The track is an exceptional distillation of Reel Big Fish's classic euphorically-juvenile ska punk. The stately arena riffs in "I Dare You To Break My Heart" reference cock rock, new wave, and soul without sacrificing one iota of RBF's signature simmering skank. "I listen to the Darkness a lot; it was only a matter of time till I wrote a song like this! I can't really sing as high as that guy so this song sounds more like Kiss, if Kiss was a Motown band that played ska," Barrett says, detailing the song's diverse stylistic touchstones.  The anthemic "I Know You Too Well To Like You Anymore" features some of Barrett's finest cutely cruel lyrics. "I think that is an amazing bad-relationship song," he laughs. "I really captured the hateful love of two people who were once madly in love, but have been together so long, they can't stand the sight of each other anymore but still say 'they drive me crazy, and I hate this and this about them, but I love them.'" No RBF album would be complete without playfully irreverent 1980s covers. The band rounds things out ska-ifying the Wonderstuff's "Don't Let Me Down Gently" and When In Rome's "The Promise."
CONNECT WITH REEL BIG FISH ONLINE!
CLICK THE ARTWORK BELOW TO PURCHASE REEL BIG FISH'S LATEST RECORD "CANDY COATED FURY"!