SICK PUPPIES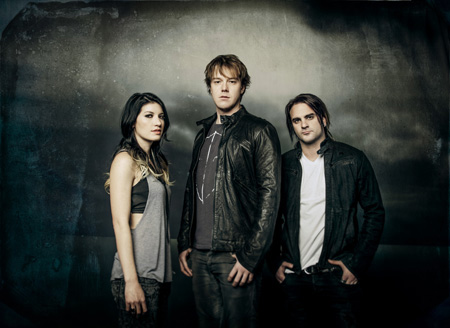 Shimon Moore – Lead Vocals, Guitar
Emma Anzai – Bass, Backing Vocals
Mark Goodwin – Drums, Percussion, Baking Vocals
The band, co-founded in 1999 by Moore and Anzai while still in high school, signed to Paul Stepanek Management, soon after they rounded out their line up by adding Orange County, California-bred drummer Mark Goodwin, who they met through a classified ad following their move to LA in 2006. Soon after, signed to Paul Palmer's indie label through Virgin Records, a fortuitous video pairing with a friend led Sick Puppies to online fame with the song "All The Same" (AKA the Free Hugs video), which earned an astonishing 75-million-plus views worldwide, and led to appearances on Oprah, 60 Minutes, CNN, Good Morning America, and The Tonight Show with Jay Leno. Other outside-the-box endeavors also pepper the band's impressive resume. Sick Puppies were featured on Cinemax's Tour Stories, a five-part documentary about the band; "You're Going Down" was the official theme for the WWE's "Extreme Rules"; plus, as dedicated road dogs, playing over 750 shows in North America, they've shared the stage with bands including Muse, Tool, The Killers, Papa Roach and Deftones.
Drummer Goodwin notes: "We're a career band. We want to build and take the time to make things right. The first time we ever jammed it was a massive wall of sound; amazing for a trio. It's been that way ever since. On Connect, we went more for 'big' rather than 'heavy.' We did a lot of percussion–tambourines and shakers—and that's rounded us out when we play acoustically as well." The third time is the charm on Connect. With two powerful albums and three varied EP's preceding it, Connect ties the Sick Puppies sound and vibe together and sets the stage for future aural adventures in all shapes and sizes. To wit: the persuasive lyrics of "Run," which is a favorite of Moore's, contains his personal mantra in lines such as: "You better run as fast as you can / cause this world tries to stop you, stop you, stop you / whenever it can." He confesses, "I only subscribe to that half the time, so it's good to have a song you can sing to yourself for inspiration as much as to your audience!" Even with Connect's myriad lyrical and musical layers, the record still manages to breathe. "I believe that we succeeded in making an album that will stand the test of time," Moore concludes with a laugh. "At least I hope so!"
CONNECT WITH SICK PUPPIES ONLINE!
CLICK THE ARTWORK BELOW TO PURCHASE SICK PUPPIES NEWEST RECORD "CONNECT"!